Alyska and I have been talking, off and on, about dopting a new kitty. We sort of like the idea of finding a cat that respresents us as a couple.
Because we're a little weird about our displays of affection.
Also: cats are amazing.
Our Cat Adoption Philosophy
Kittens are easy to adopt, while people are much less likely to adopt adult cats, bonded-pair cats, senior cats, or disabled/special needs kitties.
In 2009, PetFinder completed a national survey of their pet populations. Near a quarter of shelters have special needs cats and these types of pets spent up to 4 times longer waiting to be adopted or fostered than other cats.
Over 33% of adoption groups said they've had pets who waiting to find a home for between one to two years.
27% have had pets who've waited more than two years to be adopted.
30% of these pets are senior pets.
15% of these pets have medical problems or other special needs.
Alyska and I both believe firmly in adopting these less "desirable" cats for all the reasons you'd expect.
But really? I think, as disabled people ourselves, we grok what it means to help to give them as good a life as possible. Adaptation is key.
Alyska started searching and pretty quickly found a little kitty at the Oshkosh Area Humane Society with cerebellar hypoplasia (CH). We planned to go on the adoption fair circuit the following Saturday, with the final stop in Oshkosh.
We saw so many kitties, you guys. So many cats, including some ridiculous blorps in Oshkosh.
Look at these blorps:
Cerebellar Hypoplasia
Cerebellar Hypoplasia (CH) is believed to be caused when a small animal is exposed to an aggressive virus in utero. For cats, this is typically seen when pregnant cats are exposed to the panleukopenia virus (Distemper). Distemper aggressively attacks blood as it is produced in the body which can be carried from mother to developing fetuses. There, it can attack stem cells as they divide, causing the cerebellum in the fetus to develop improperly. The strength of the infection can determine the severity of the hypoplasia.
CH expresses with aberration in gait, poor fine motor control, and tremors. Cases range from mild to severe depending on how severe the locomotive issues affect the animal. Mild cases can appear as minor tremors when concentrating or listing while walking. Moderate cases can display as occasional tumbles while walking, severe tremors when focusing, or inability to jump. Severe cases can display an inability to walk at all, uncontrollable tremors, or inability to stand entirely. More information
You Encounter a Floppy Tabby
In the corner of the 3rd room at the Oshkosh Animal Shelter, we met a sleepy little grey tabby. This cat was the sweetest thing either of us had ever seen. She was recovering from minor surgery on her neck, but was thoroughly cute and quite demanding of chin skriches. We sat with her for about half an hour before seeing some of the kitties pictured above.
But, I tell you, we were smitten. Punch-drunk on grey tabby.
Adoption
We filled out paperwork for her before we left that night, and Alyska went and picked her up the Tuesday after Labor Day.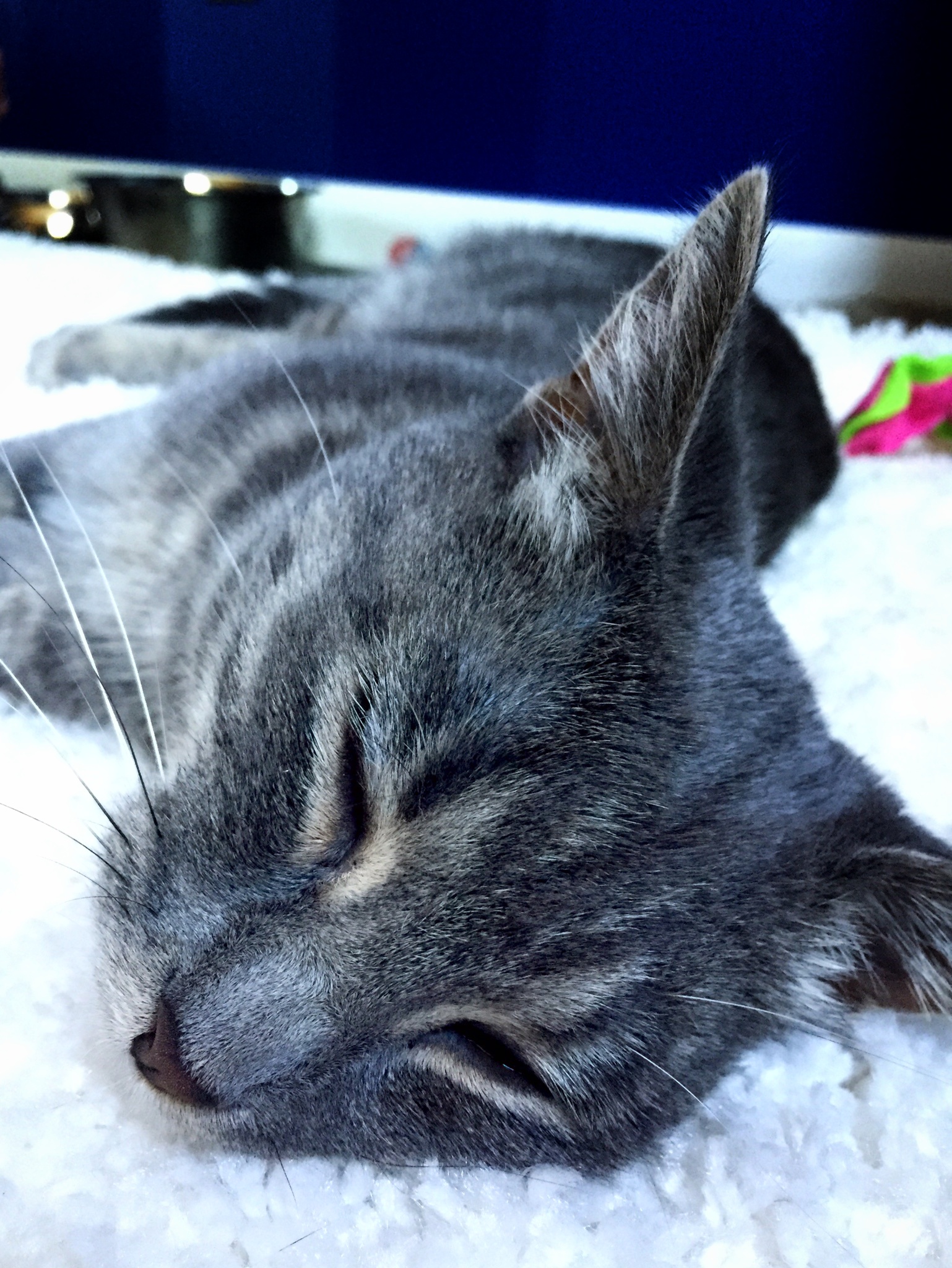 We've been holding out blasting everyone with news because of Oshkosh's adoption policies - special needs cat adoption into homes with established pets involves a two week foster-to-adopt period. If either:
Poe and Ginger do not accept her or
We are unable to properly care for her
We can surrender her back to the shelter without penalty, no questions asked. So we're technically still pending.
Minuet's CH
After a week, we have seen very few locomotive issues, no tremors, no jumping problems; so far, she has a definite, permanent head tilt and lists a little to the right when she walks. Occasionally she bobbles, especially when you don't put all four of her paws down when putting her on the floor, but not consistently. And she jumps like a champ, or a tiny olympian. Otherwise, there don't not seem to be any of the "moderate CH issues" described by the shelter - she sees more of a mild case.
As for Poe and Ginger?
Things seem to be working out. There's been one fight when Minuet bounded into the bathroom while Ginger wasn't paying attention. No damage, just surprised swiping at air. But, like you can see, they can share space ok (especially if there are chipmunks to watch).
Poe seems to mostly not care any more as long as she gets food. Or treats. Of course.
To Be Continued...
We're still waiting for her to tell us her name, but in the meantime, we've dubbed her Minuet de la Mancha, a combination of her shelter name (Minuet) and homage to Don Quixote who, among his many adventures with Sancho Panza, went "tilting at windmills" when he jousted with imaginary giants.
Her initial adventures have included chipmunk-hunting with Ginger, mouse noise investigation with Poe, and occasionally sharing the bed with both the other cats and us humans.
Until one of the cats realize what's happening.
So, while we're still a long way from perfect, it seems to be working out OK right now.
And she's such a cutie.